MY HERO HALLOWEEN SPECIAL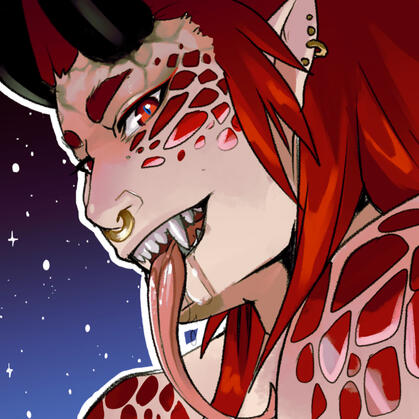 pic by @flowerzips on twitter
Arson
HEAD/SHIPPING MOD
Arson is a Mod of many talents and specializes in chaos and magic.ZINE XP:
Head Mod for Rhythm Round-Up, Co-Head Mod for Hues of Green: Bolin Centric Artbook, Head Mod for CamStar Heros, Co-Head Mod for Splitscreen
Kit
FORMATTING MODReady to put this scaled creation together Kit has come to light a fire under our team!ZINE XP:
Graphic/Art Mod for Taking Dynamight, Graphic/Formatting Mod for Ace of Spades
Adonis / Doni
BACKUP FORMATTING MODI'm an exhausted product/graphic designer by day and an exhausted artist by night! I cannot confirm or deny that I'd seduce a dragon but I do play bards in D&D.
If I could be a dragon that'd be sexy.ZINE XP:
Money Talks: Formatting Mod
Guardian Zine: Formatting / Art Mod
Stern Bild Style: Formatting Mod
Tie Me Up: Graphics Mod
Nova Pulse: Formatting Mod
Atlass
ART / MERCH / PRODUCTION MODAtlass loves Iida too much and is addicted to Earl Grey teaZINE XP:
Intern Art Mod • Dimensions: Naruto AU Artbook (2021)
Art Mod • The Dawn of Spring: A MXTX Spring Zine (21-22)
Graphics/Layout Mod • Citrus: AllYuuji Zine (21-22)
Head/Art/Graphics/Layout/Shipping/Socials
• IidaTenBros: The Iida Zine (2022)
AKIWRITES
BETA MODWriting Demon from across the sea.ZINE XP:
- Writing & Beta Mod -
Nova Pulse (22-23) • Tie Me Up (22-23)
Gilded • Nuts, Bolts, and Quirks
TSUKUYOMI: Tokoyami Zine (22-23)-Beta Mod-
Cam Star Heroes (21-22)
My Hero Halloween: Dragon SMASH! (2022)
MakeshiftDust
WRITING / BETA MODDragon enthusiast, kinky bastard, gay AFZINE XP:
Call of the Wild - Spectator Mod
Alive+ - Organization Mod
Treasured and Tarnished - Organization Mod
Creep: A Deku Zine - Writing/Organization ModCo-Mod of DarkWish Guild: a BNHA Profiction Event HubBANGS:
BNHA Fantasy Bang 2022 - Head Mod
Barbarian Bakugou Bang - Head Mod
Villain Deku Bang - Head Mod
Luke
SOCIAL MEDIA MODA gremlin that likes to scream at anything they enjoy and eat trash while watching true crimes videos and reading soft krbk fics till he cryZINE XP:
Red Velvet - A KrBk Zine: Head Mod & Finance
PLUS ULTRA Retro : Head Mod
MHA Mindful Zine : Art Mod
NOVA PULSE : Head ModBANGS:
Fem KrBk : General Mod
Preggyshima Bang : Head Mod
SCHEDULE
Mod Applications • 2/1 - 2/28
Artist Applications • 2/15 - 4/10
Writer Applications • 3/13 - 4/10
Contributor Emails • 4/15 - 4/20-------Artist Pitches Due • 4/25
Artist Sketch Check-in • 5/10
Pairing Selection Begins • 5/12
Pairings Selected • 5/15
Check-in #1 • 5/30
Check-in #2 • 6/25
Check-in #3 • 7/11-------PREORDERS OPEN!
July 24, 2022DIGITAL COPIES SENT
October 31, 2022
FREQUENTLY ASKED
QUESTIONS
Do I have to be 18+ to participate?
Yes. This is heavily a NSFW project, therefore all moderators and contributors must be 18 years of age by Febuary 1, 2022, to participate.
What is this project?
My Hero Halloween is a yearly event that started in 2020 as a way to give a little Halloween spirit back to the My Hero Community! This year it was decided to take it one step further and make a physical Art Book to go with our theme! This year our theme is DRAGONS! Our idea is to do a color hue scheme and have each artist pick one colour off the provided wheel to use as their main pallet.
Is this even for Profit or Charity?
We are a for-profit event that will consist of a physical artbook, a digital anthology, and physical merch! We know our contributors will work hard and we wish to compensate them for this in some small way!
What content will be allowed?
*All content, with the exception of 'problematic' content will be allowed in the physical copy, as long as it pertains to Dragons in some way.Problematic content will be allowed in the digital version but all Artist MUST contribute one piece to the physical book first.
What content is considered 'Problematic' ?
Non-Con

Somnophilia

Incest

Drug Use

Omorashi
What content will NOT be allowed?
Gore

Vore

Scat

Emeto

Loli/Shota

Necrophilia

Snuff

Underaged
Inspired by Huevember, this project's goal is to have minimum one of each colour that is on the above wheel. If you feel like this would be too constricting never fear! You can use all colors you want in your drawing as long as the hue of your choice stays the main visible color of the image!Upon entry to the discord, each artist will supply their top three(3) colour choices along with their art pitches in the form provided. We will do everything as fairly as possible and strive to get everyone their preferred hues.